Stratasys Delivers First Shipment of HP-Branded 3D Printers
More news from Stratasys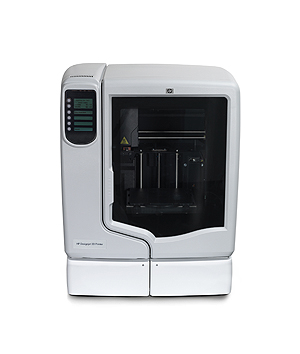 Additive fabrication system maker, Stratasys, Inc., has announced it has delivered its first shipments of HP-branded 3D printers.

Stratasys and HP co-developed the exclusive 3D printer systems, which are being manufactured by Stratasys as part of a global manufacturing agreement with HP, as announced in January.

HP launched its Designjet 3D products in Europe today, making it the only major manufacturer of 2D (or paper) printers in the 3D printer market. The products will be available this May in five European markets: France, Germany, Italy, Spain and the UK.

"The agreement to develop and manufacture a product to HP's specification is a milestone for us," said Stratasys CEO Scott Crump. "Today, we're taking a big step in realising the agreement's potential by demonstrating we can deliver."

"There are millions of 3D designers using 2D printers who are ready to bring their designs to life in 3D," said Santiago Morera, HP's vice president and General Manager of its Large Format Printing Business. "Stratasys FDM technology is the ideal platform for HP to enter the 3D MCAD printing market and begin to capitalize on this untapped opportunity."

Technology & Use

Product designers, engineers, and architects who design with CAD (computer aided design) use 3D printers as peripheral devices to "print" or produce a tangible 3D model from plastic or other material to verify the form, fit, and function of designs prior to committing them to production or construction. Designers often seek 3D printers that model with production-grade thermoplastic when they want to best-predict performance of their plastic end-product.

Stratasys manufactures 3D printers under the Dimension brand, and it makes 3D production systems under the Fortus brand. Both product lines, as well as the HP-branded 3D printers employ Fused Deposition Modeling (FDM) technology, which creates three-dimensional plastic models directly from a CAD file. The patented process creates parts by extruding semi-molten plastic in thin layers to "grow" the part, layer by layer. The process of producing a part layer-by-layer is known generically as "additive fabrication" or "additive manufacturing."

Pioneer & Leader

The term "3D printer" was coined by Stratasys when it introduced its first compact system co-developed with IBM in the mid 1990s. 3D printer is now widely used to describe a segment of additive fabrication machines that generally connotes a compact, low-price unit that is quick and easy to operate. Stratasys was an early pioneer of the additive fabrication industry as well as its 3D printer segment. The company has a seven-year track record as the industry's unit sales leader, and it has an industry market share of 43 percent, as well as a market share of more than 50 percent for the 3D printer segment. The company's ongoing leadership demonstrates customers' long-term satisfaction with its products and FDM technology.
Stratasys Inc
Telephone: + 1 800 937 3010
Fax: + 1 952 937 0070
Email: info@stratasys.com
Web: www.stratasys.com
Post a comment